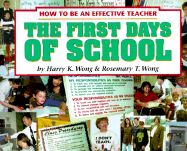 Have you ever read this book? It was our required textbook during my methods of classroom management class in college. I absolutely love this book and read it EVERY year before school starts.
I love how this book illustrates how important the first couple hours/days/weeks are to a successful school year.
This past year, before I began the year, I created a Powerpoint with all my rules, expectations, procedures, etc. Then, I spent the first couple days of school going over the Powerpoint so my students knew exactly which behaviors I expected from them.
It was also very helpful to go over this Powerpoint after my students came back from Christmas break, and I also plan on going over it again after spring break.
I know there's no way anyone could use my exact Powerpoint since we all have different rules, expectations, rewards, consequences, etc. But feel free to use whatever you can.